NOTUS is a non-profit independent association dedicated to applied social research. NOTUS was created in 2013 as an association of professionals with experience in the areas of work, education and vocational training, local sustainable development and employment and social policies with a focus on gender and social equity as cross-cutting themes. We develop research activities and provide technical assistance using scientifically rigorous methodologies with an interdisciplinary focus. With our work we give support to actors in both public and private sectors committed to gender equality, social inclusion and sustainability.
Featured
0 Comments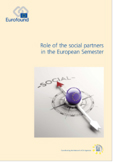 See pdf. here
New publication of a study by
Pablo Sanz (Notus), Christian Welz and Ricardo Rodríguez Contreras (Eurofund)
about The Role of Social Partners in the National Reform Programmes and in the European Semester. The study analyses the role that European and national social partners play in the European Semester in the EU 28 countries. In the case of national social partners, special attention is paid to their participation in the development and implementation of the National Reform Programmes and of the Specific Recommendations to the Member States formulated by the Commission.
Eurofound (2016), Role of the social partners in the European Semester, Publications Office of the European Union, Luxembourg. Authors: Pablo Sanz (Notus), Christian Welz and Ricardo Rodriguez Contreras, Eurofound.